The Enrollment section
Applies to: All Board Cloud subscriptions 

 

associated with a Subscription Hub

 

 

 

 
WHAT: Introduction to the Enrollment section
In the Enrollment section you can enable and configure an online enrollment process that allows end users to request access to Board or to register directly in Board and access the configured platforms right away.
An enrollment process allows an organization to significantly reduce sign-in and registration friction, which allows your users to easily access Board.
Through an external identity provider (IDP), a user can create an account in Board fully automatically. It is also possible to request the validation of the user's email address, the definition of a personal password and the completion of a customizable request form: once these steps are completed, an approver must accept the access request before the user can access Board.
You can also define default authorizations, in order to apply a basic access level to all users who register through an enrollment process: in this way, new users will automatically receive a preconfigured set of permissions to access Board platforms. These permissions can be changed by administrators at any later time.
We recommend you set the default authorizations before enabling the enrollment process.
If no default authorizations are set, each newly approved user won't be able to access any Board platform. Administrators will then need to set these authorizations for each single user manually, from the User profile panel.
The successful result of an enrollment process is always the creation of a new user account within the Subscription Hub.
If default authorizations associate each new user account with one or more Board platforms affected by a Sync rule, users synchronization is performed.
The Enrollment process can be of two types: with direct approval or with manual approval.
Direct approval enrollment process
The direct approval enrollment process allows a user to register in Board autonomously and automatically through an external identity provider login. For this to happen, the external identity provider must be correctly configured in the Subscription Hub and additional server-side configuration managed by Board Cloud team is needed.
Manual approval enrollment process
The manual approval enrollment process allows the end user to request access to Board, through an external identity provider (IDP) or through Board authentication. Once the enrollment process has been completed by the end user, the access request must be examined and approved by specific users selected as approvers. If no approver user has been defined, notifications will be sent to all active administrators.
If the request is approved, the end user will receive a notification email and will be able to access the selected Board platforms with the configured credentials.
HOW: The Enrollment home page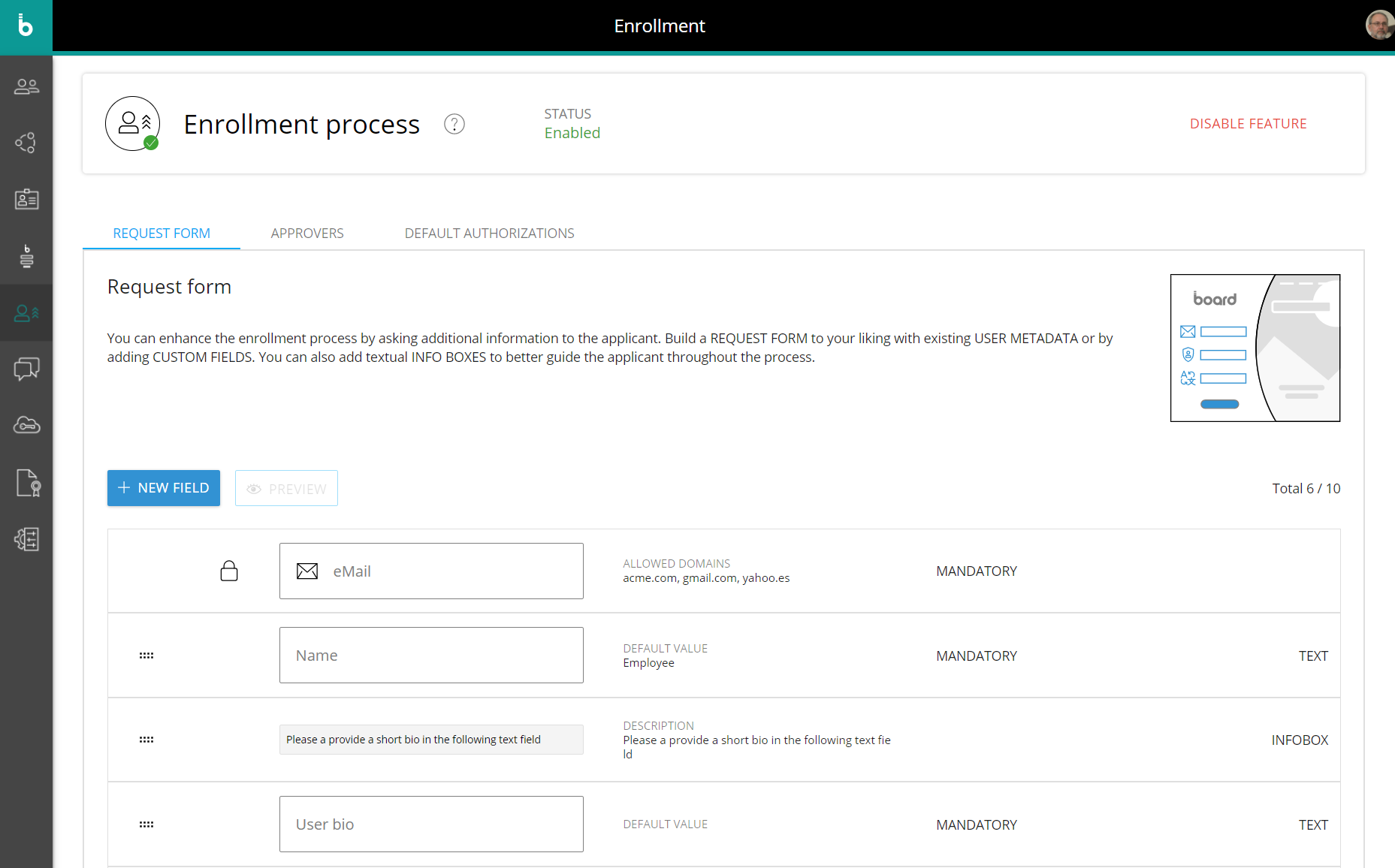 In the upper part of the Enrollment home page you can activate the feature and review its status (enabled or disabled). 
A tabbed navigation menu will give you quick access to three configuration pages:
Request form (default landing tab). In this page you can define and preview a form that the enrolling user will have to fill out during his/her access request. The form can contain existing user metadata fields, custom fields or textual info boxes to better guide the applicant throughout the process.
The maximum number of elements in the request form is 10: the first "eMail" field is unmovable, undeletable and can be configured in order to allow selected domains only.
See Create a request form for more details.
Approvers. In this page you can select one or more users to be tasked with the requests approval. When a user completes the enrollment process, a notification email will be sent to all listed approvers. If no approver has been defined, the notification emails will be sent to all active administrators by default.
By clicking on the link provided in the email, approvers or administrators will be able to evaluate the user's request, approve it or discard it.
See Define approvers for more details.
Default authorizations. In this page you can define some attributes that will automatically be set for new users when their account is created, thus speeding up the enrollment process. Default authorization should be configured before enabling the enrollment process.
See Assign default authorizations for more details.
Learn how to