Cognitive space
Thanks to the introduction of Natural Language Recognition (NLR) and Natural Language Generation (NLG) technologies, Board allows an extremely innovative and effective interaction between users and data on the entire Board Platform.
To access the most relevant information, a user can speak directly with the system or interact with it through search strings, just like with a common online search engine. Thanks to a cutting-edge technology that automatically translates speech into queries and returns "machine-generated" reports together with smart on-the-fly descriptions, the user can easily obtain all key information from the analyses, conveniently highlighted for him/her.
The Cognitive Space section of Board provides natural interaction between users and data that also delivers a truly web-like search experience and saves time.
The following is a search results page, presenting a particular chart that the system considers as the best answer to the query typed by the user, followed by a list of search related Capsule Screens.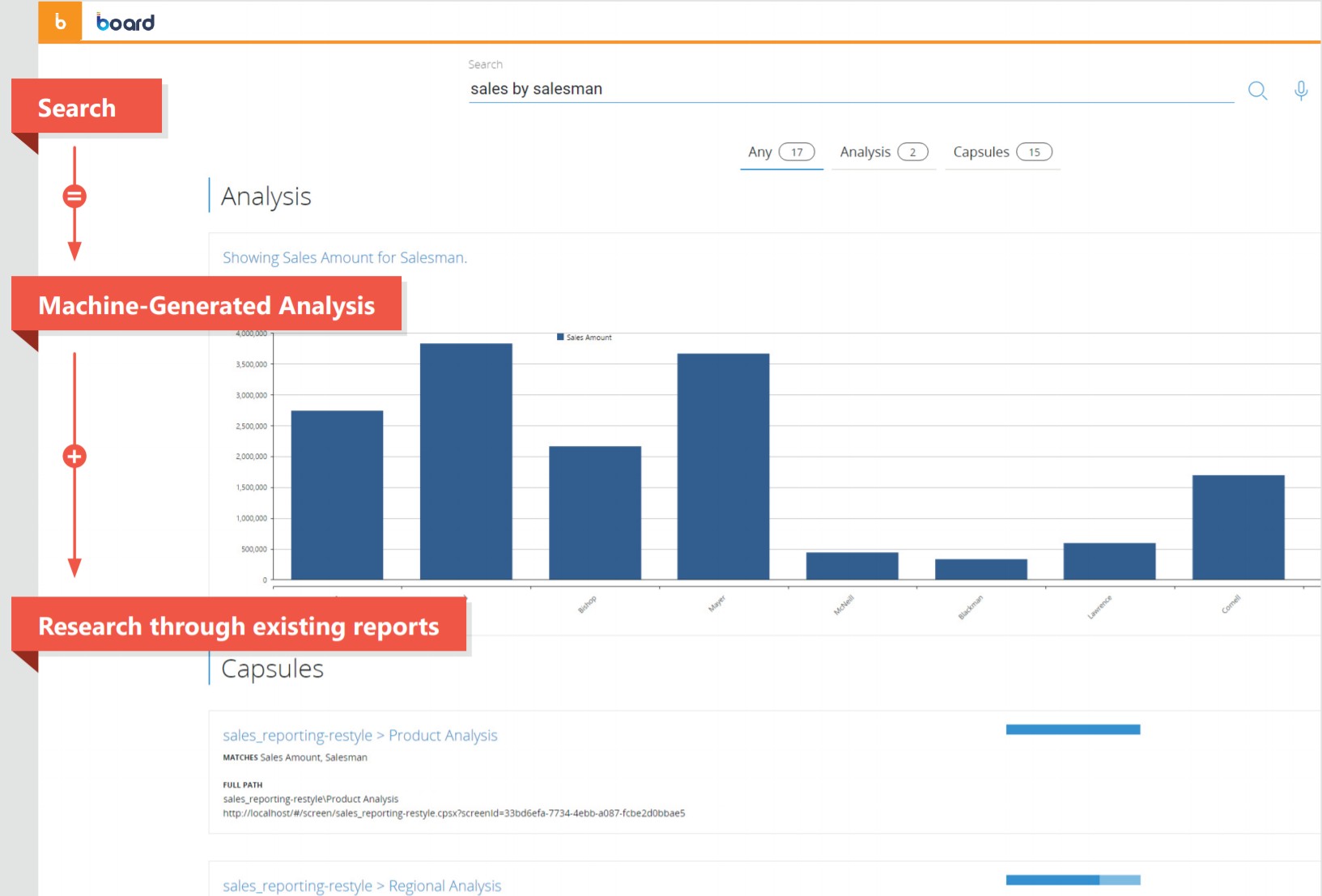 To enable Cognitive Space on a Platform, please submit a ticket through the Board Support site: the ticket must contain your Platform name (e.g. customer1-s1.board.com). The Board Cloud Operations team will then handle your request.
How to use Cognitive Space
To enter the Cognitive Space section, click on "Cognitive Space" in Board's Main Menu. You will be taken to the homepage of the Cognitive Space section, where it is possible to search for data or specific reports/KPIs. The small square at the top left corner of the page will become orange, meaning that you're in the Cognitive Space homepage.
This section offers a search box where you can either type your search keyphrase or use your microphone to ask a question with your voice. Board will then analyze your question and look for Capsules and reports that best match your keyphrase. 
Search results will include analyses and Capsules. An analysis is an automatic chart generated by Board that represents the search results by pulling data from Entities and Cubes in Board.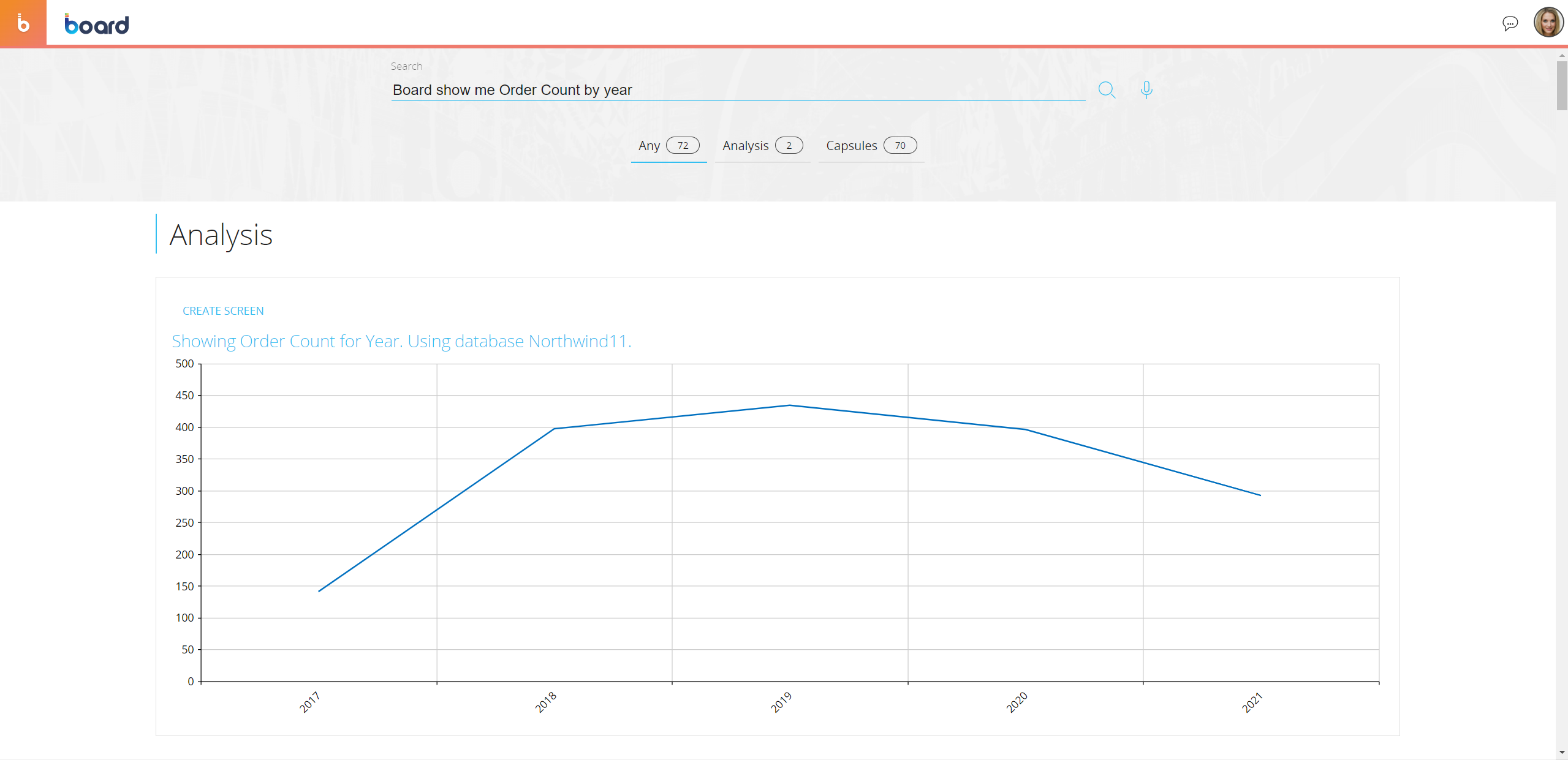 The chart is interactive: you can drill down on it, export it or ask Board to describe it with the Analysis button.
If you scroll down or click on Capsules, you will also see the list of Screens that match your search, sorted by relevance.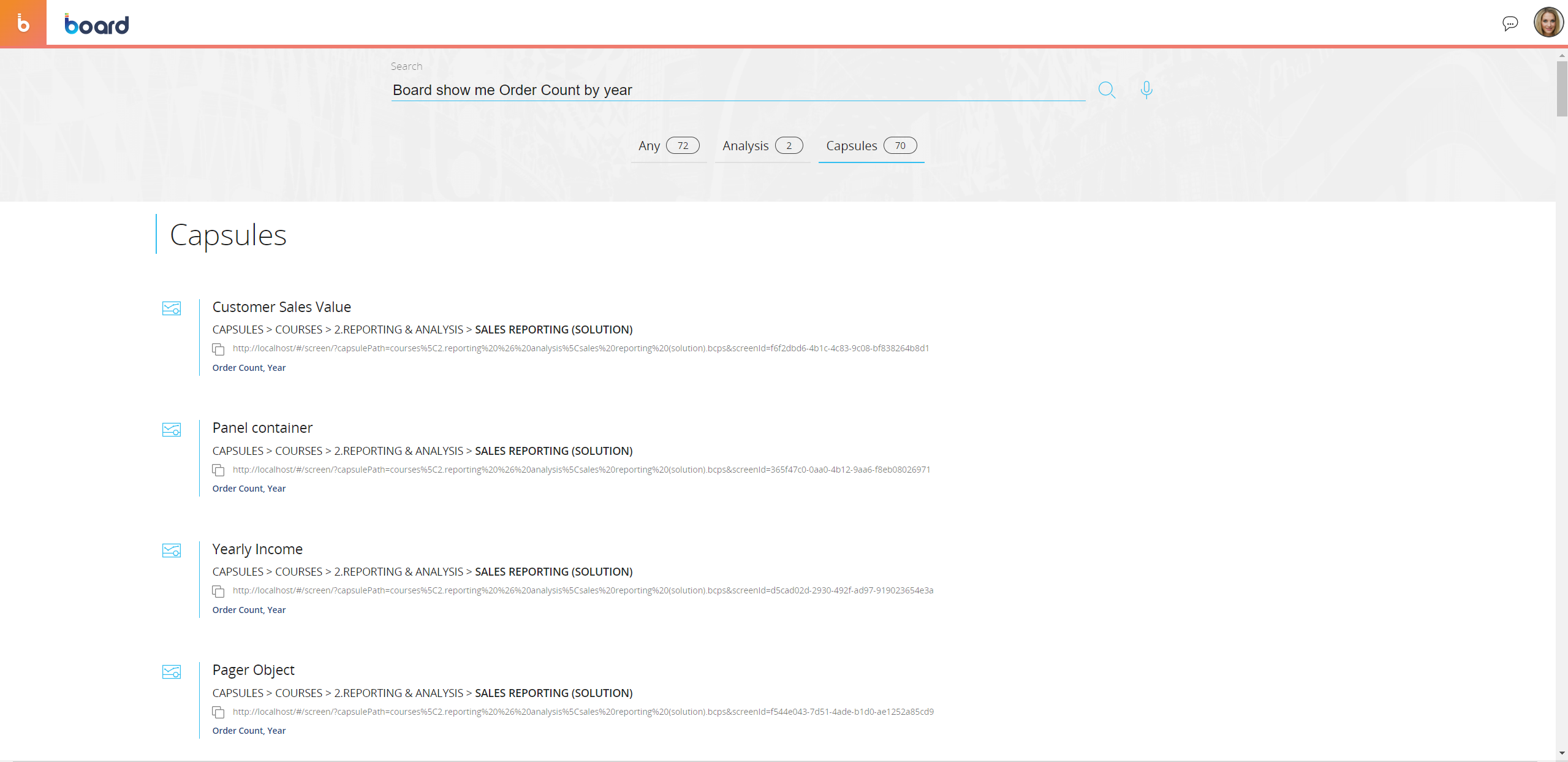 Natural Language Generation (NLG)
When you are on a report, you can click on the "Analysis" icon (

) from the sliding toolbar of each supported Object to get an audio and textual description of the data displayed in it. The audio description is generated on the fly by Board's Natural Language Generation feature.
The Natural Language Generation is supported only by charts and Geo-map Objects (Google Maps and OpenStreetMap).