New DataView Object
About the new DataView Object
DataView object has been replaced in Board 8 with a newer version of the same. This object has really improved rendering performances when compared to the previous one. In fact, after the first execution, the screen refresh is way faster; moreover changing page in a pager results in better performances, vertical and horizontal scroll is quicker and smoother. This object is more ergonomic and allows to use both master layout and drill down in the same DataView.
Appearance
At a first sight it can look identical to the previous one, but it takes few seconds to notice the differences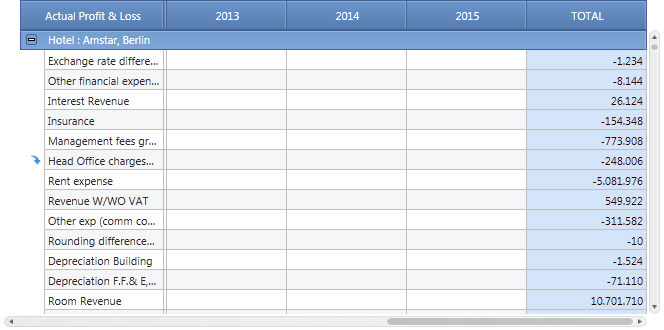 The image above shows the new DataView object: please note the new scroll bar
New scroll bars (they become pretty much invisible when the focus is not on the DataView)
Flatter style
New Menu (hidden, it appears hovering the top left corner)

New menu, note the new "add to cart" button
Old Capsules and new DataView
Old capsules containing old DataView objects are still opened in Board 8, anyway it's not possible to build an old DataView anymore.
Old DataView of old capsules can be upgraded to new DataViews without loss of layout or format settings, let's see how.
Open a screen capsule containing an old DataView and press F4 to activate edit mode.
Right click on the DataView you want to upgrade.
You will see a new entry "Upgrade DataView", click on it and your DataView will be upgraded to new one.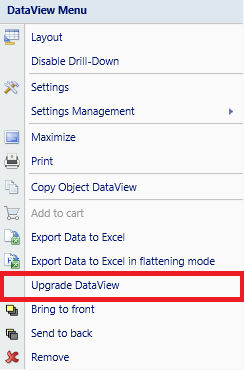 Now just press F5 to see it.
New Features
Other than improvement in terms of rendering and performances, new DataView contains the following new features:
Possibility to have Master Layout and drill down in the same DataView;
Please check the linked sections for more details.