Native BOARD ODBC drivers
Native Board ODBC drivers deliver the best performance and scalability for connecting BOARD to many RDBMS through ODBC protocol.
Unlike other drivers, Board Drivers connects directly to your preferred data sources,  without any additional need of RDBMS Client Engine installation.
This results in better response time, reduced maintenance and faster configuration, testing and deployment.
All drivers are available for 64-bit platform and are installed during Board Server setup. You can recognize them from the Driver Name which is always preceded by "Board".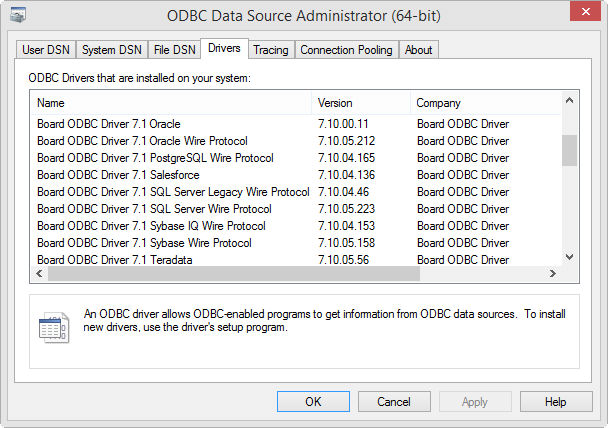 The following Board ODBC drivers are available :
RDBMS
Oracle Database

Microsoft SQL Server

IBM DB2

IBM Informix

MySQL

PostgreSQL

Progress OpenEdge
 
Big Data
Apache Hadoop Hive

Claudera Impala

Pivotal Greenplum

SAP Sybase IQ

Teradata 
SAAS/Cloud
Note:
All "Wire Protocol" versions of the drivers don't require client libraries reducing complexity during installation and maintenance.
Warning : Big Data ODBC Drivers and Salesforce ODBC Driver are subject to an additional licensing
For All the Drivers a Quick Start Guide and an Advanced Tuning Guide is online available.
Once the ODBC Connection has been configured please refer to Defining an OLE DB connection Section How to incorporate it in the Board Database Connection and Data Readers.