Defining an OLE DB or an ODBC connection
ODBC and OLE DB connections are connections to external data sources used in DataReader protocols, and relational InfoCubes protocols.
The connections drop-down list of the protocols configuration transaction shows the ODBC and OLE DB connections used in Board.

Creating an OLE DB connection
To create a new connection, click on new connections icon,

type the connection name in the Name field then click the OLE-DB Wizard button.

the following window will appear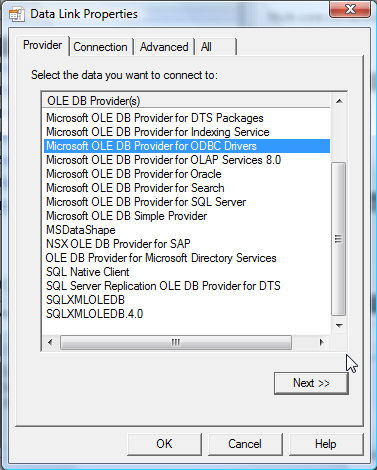 Note that the list of OLE DB providers listed will vary depending on your computer's settings.
Select the desired OLE DB provider and follow instructions for configuring the connection. The configuration parameters and setup steps will vary depending on the chosen OLE DB provider.

When the configuration is finished, press the OK button. The OLE DB connection wizard will close and a connection string will automatically appear in the Connect String field.
Optionally, select the RDBMS type. If the relation database you are connecting to is not listed, set the type to General. Select the Multi-core connection is your data source supports multi-core connections. The time-out parameter sets the maximum number of seconds for a query. The value 0 sets the time-out to unlimited.

If required, type the connection user name and password to log on the relational database provider.

Click the Save & Connect button to save the connection definition and connect to the data source.
Creating a new ODBC Data Source
To create a new ODBC connection click Windows Start menu, then select Control Panel, Administrative tools and finally select the icon Data Sources (ODBC).
The ODBC Data Source Administrator window opens.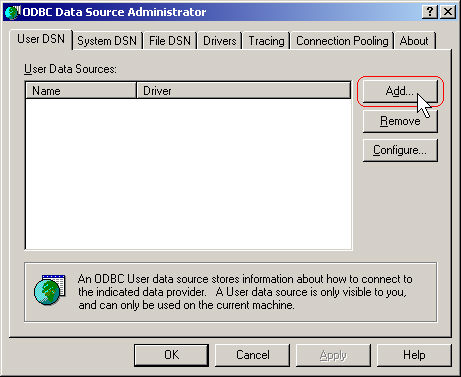 Click the Add button and follow the instruction for configuring other required parameters.
After you have created a new ODBC connection, you must close and restart Board in order to view the newly created ODBC connection in the RDB drop-down list.