Export Data
As it happens for the Board Win Client it is now possible to export from any Object (with a Layout) of the Board Web Page (Screen), Data,  in MS Excel Format file.
 

Click on the 'Export Data'  icon of the drop down menu of  the object which layout data you like to export in MS Excel.
The Export Data Window prompts out :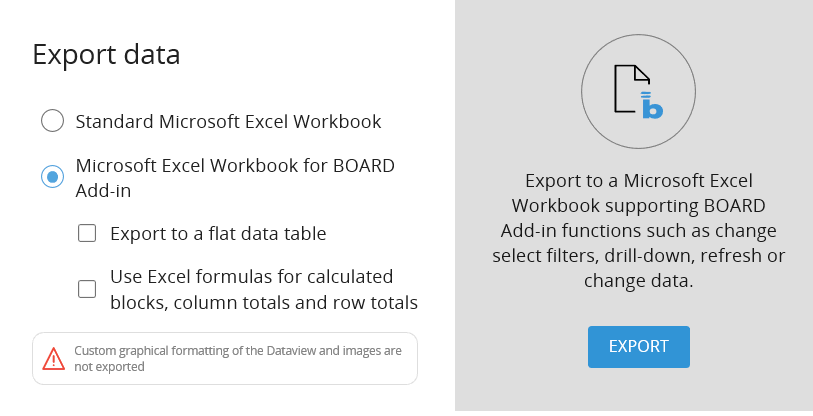 You can then select from the following options:
Standard MS Excel Workbook : data are simply copied and pasted in a new MS Excel file
MS Excel Workbook for BOARD Add-In :  data and layout are copied and pasted in a new MS Excel file. If you have the Board MS Excel Add-in you can start interacting with data or editing the Layout. With this Export options it is possible (flagging the check-box) :
> Export in flat mode for further pivoting. This is available only if two or more entities are by row  
> Use Excel formulas ... calculated blocks, totals and subtotals are 'translated' in the corresponding MS Excel Syntax Read more...
Clicking on Export, data are 'exported' and a new MS Excel File is open.
Short Notice

If you click on Export Data from the Screen 'Open Menu' all the Object Layouts of the Screen are exported together  in several and distinct (per layout) worksheets of the same MS Excel workbook.