Interacting with a Webviewer Object
The Webviewer Object is used on a Screen with the sole purpose of displaying a fully functional web page. However, it may also offers two interactive features:
The ability to configure a Layout to dynamically define a URL. See Creating a Webviewer Object for more details.
The ability to view comments related to the Object (if any)
When you hover over the Object area, the contextual menu icon (

) appears in the top left corner. Click on it to reveal the contextual menu as a sliding toolbar.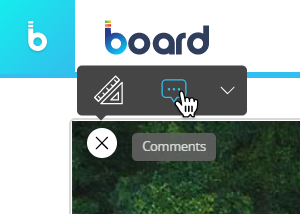 The contextual menu includes the following icons by default (unless otherwise configured):
The Layout icon . Opens the Layout editor
Comment icon . Displays any comment attached to the Object (if any). Depending on the comment configuration, the icon displayed can be a balloon icon, a question mark icon or an alert icon
Learn more about: