Viewing relationship in analytical mode
The Analytical access mode allows you to view a childàparent relationship from bottom-up (child-to-parent). It displays the full members list from the child entity and the parent item next to it.
Open the Relationships transaction, select Analytical from the Access mode drop-down list,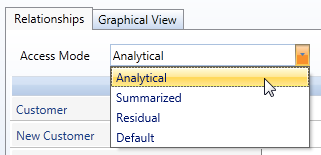 To browse a relationship, click the desired parent entity name: a window showing the childàparent items opens.
The following illustration shows the CityàState relationship in analytical mode.

Clicking on an item allows changing the relationship.