Viewing a relationship in analytical mode
The Analytical access mode allows you to view a childàparent relationship from bottom-up (child-to-parent). It displays the full members list from the child entity and the parent item next to it.
Open the Relationships window, select Analytical from the Access mode drop-down list,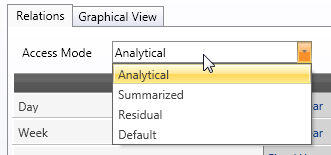 To browse a relationship, click the desired parent entity name: a window showing the childàparent items opens.

Clicking on an item allows you to change the relationship, note however that relationships between standard Board time entities (day, week, month, quarter, year) cannot be edited.