Sending the half-KEY for certification
Open Board's web site, https://www.board.com then go to the Support and click the link to "Licences Activation"
Logon to the web site using your user name and password. If you do not have a user name and password you can request a login by clicking on "Click here to register".
When access is granted, the following page opens,

Click the Browse button and locate your Key file, then click Send.
Wait until the confirmation message indicating the e-mail address where the certified KEY was sent is displayed.
The following illustration is an example of confirmation message, indicating that the certified Key was sent to frank@mycompany.com.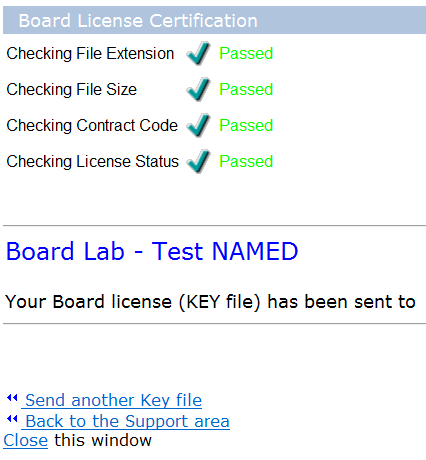 Important
After viewing the confirmation message, delete the half-KEY file from your computer. You can now open your e-mail program to receive the e-mail message with the certified KEY file.
If the certification is not successful, other messages will appear.
The following message indicates that you have sent the wrong file.

Click back, then click on Browser again and make sure you select your half-KEY file which has the extension KEY.
The following message means that you typed a wrong Contract Code.

In this case recreate a new half-KEY and verify that your contract code information is correctly typed.