Board Client
installation and configuration
Board Client can be installed on the following operating systems :
Windows 2008 Server and later editions of the Windows Servers family
Windows Vista and Windows 7, all professional editions
Windows 8, all editions.
Note:
Board client is not supported on Windows 2000, Windows XP Home Edition or other non business editions of Windows operating systems. Monitors with a screen resolution 800x600 don't allow to correctly use Board client, the minimum resolution required is 1024x768.
Run the Board Client setup program and follow the on-screen instructions.
The setup procedure verifies that the following software is installed on the PC:
Microsoft .NET Framework 4.5

Windows Installer 3.1

Adomd.Net (32bit or 64bit depending on your operating system)

Primary Interop Assembly
and if not present it will automatically connect to the Microsoft web site and install it.
Note:
Board Client older than version 8.1 needs Microsoft .NET Framework 3.5 SP1 in order to run properly.
During the Board client setup procedure you will be required to choose between two installation types, Auto-updating version or Standard version.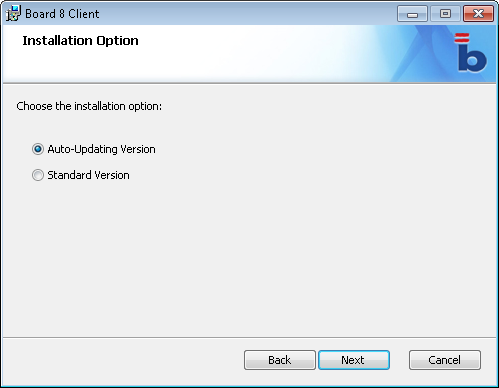 Select the auto-upating version for standard users which need to connect to a centralized Board server. The auto-updating version automatically manages the deployment of updates of the Board client software: at start-up, it connects to your Board server and if an update of the Board client program is available it will automatically download it and run it.
Select the standard version if you need to work in a stand-alone architecture. This is option may be preferable if you are an administrator or a Board developer and need to work while not connected to a Board server.
Note:
If you want to use the Auto-updating version, please make sure you have enabled the Autoupdate service in your Board Server. The page Board Server Configuration describes how to allow the automatically downloads and installs updates of the Board Client software.
After completion of the setup program you can launch the Board 8 client program from Windows programs menu.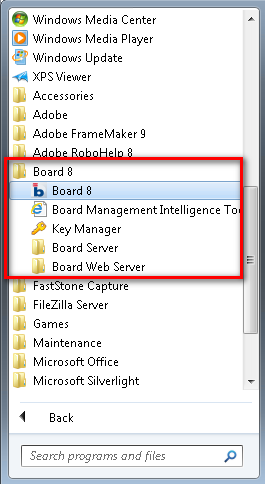 The program will connect to your Board server and for the first time to download the current client version then the Board client program will start.
Notes
By launching the Board Client program with the parameter /chooseclient or by keeping the CTRL key pressed, before the list of all Board Client versions installed on the client PC will appear and it is possible to select any of the available versions.
The configuration settings, host IP and port number, of the auto-updater program are stored in a file named AutoupdatedSetting.dat located under the user profile's data directory of Windows