Capsule navigation
The following illustration shows a Capsule opened using a browser.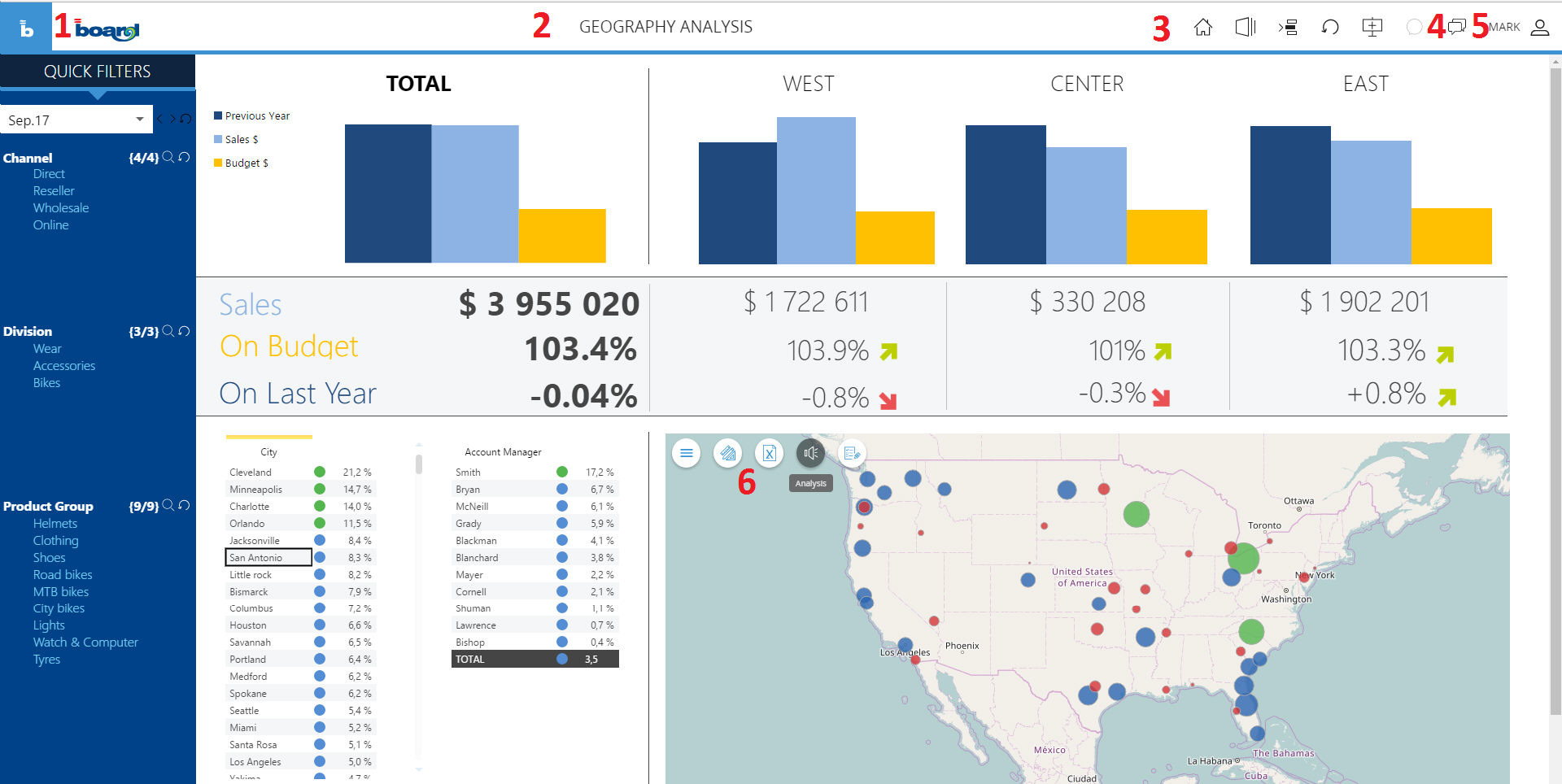 Board Button: from here the user can come back to the capsule browser, go to the favorites or recents section and it is possible to go to presentations and cognitive space;
Section Header: this area shows the screen name, it can be disabled in the web server configuration settings;
Inline menu: this menu contains:
Home screen: it sends the user to the capsule home screen;
Screen list: it shows the screen list, the screen list will be shown on the left into a sliding panel. If configured the screen list will be formatted like the capsule sitemap;
Select: it opens or closes the screen selection window;
Refresh: it refreshes data in the screen;
Add to presentation: it adds the current screen to a presentation. If the user changes a selection or a layout before pressing this, the screen will be added with the current selections and layouts.
Chat: it opens or closes the chat;
User menu: From here the user can logout, change his language settings, enable or disable the inline menu and change the password. Administrator users can access this menu to change the theme;
Control action menu: every board control (DataView, Chart, cockpit or Map) will showthe list of possible actions in this menu at top left;
Show/Hide actions: it shows or hide actions for the current control;
Drill down: it performs the default drill down, you can also drill down by double clicking a row;
Drill Anywhere: it will prompt the entity list on which you are allowed to drill- down, after selecting the entity, it performs a drill down;
Collapse All: it collapses all the groups of a DataView;
Expand All: It expands all the groups of a DataView;
More actions: when the list of actions is long some of them are hidden, if you want to show more actions click on this button;
Lock and Spread: it opens the lock and spread window for Data-Entry.
Edit layout: it opens the edit layout window;
Select: Selects the highlighted cells of the DataView and propagates this selection to the entire screen;
 Lock: it locks a Data-Entry cell;
Unlock: it unlocks a Data-Entry cell;
Export to Excel: it exports data to Excel;
Export to PDF: it exports a DataView to PDF.
Analysis start: it gives an audio and textual description of the analysis;
Analysis stop: it stops the description;
 Disable Master: it disables the master layout;
Enable master: it enables the master layout.